eBay
The eBay tab enables you to set up defaults for your new listings, select your image server and handle advanced settings.
New Listings
Here you can control the default settings for new listings, such as the eBay Site, auction duration, and your payment, shipping and returns info.
You can even select your design and image layout of choice or copy the settings from a master listing. To that end, simply drag and drop the desired listing from the GarageSale listings section straight into the white box at the bottom right and GarageSale will automatically copy its settings.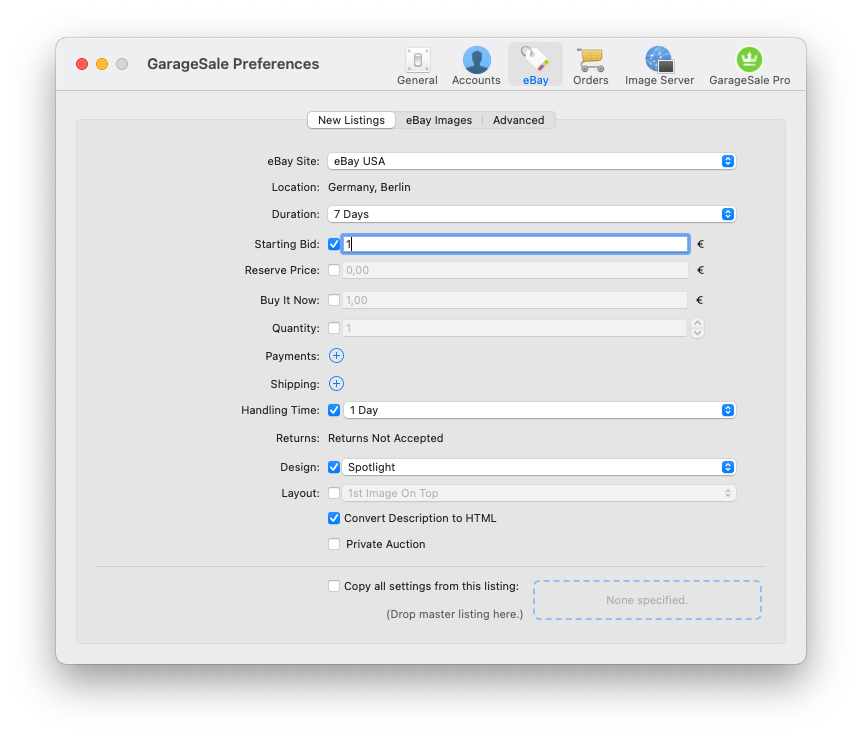 eBay Images
Choose between using GarageSale' free picture service or eBay's picture service (EPS) or purchase our Good Till Cancelled (GTC) image option.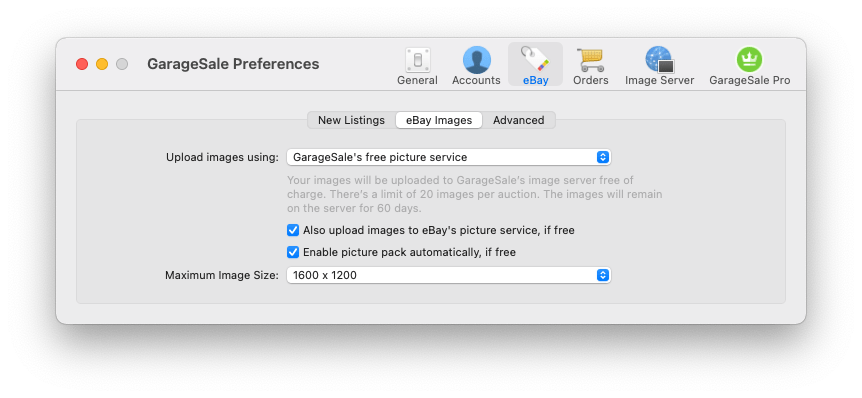 GarageSale's free picture service: Choose this option to upload up to 20 images per listing. The images will remain on the server for up to 60 days. You have the option to 'Also upload images to eBay's Picture service, if free', if you check the box below.
GTC Image Option: If you wish to use our image server for Good Till Cancelled (GTC) listings, you can purchase different image server options by clicking the 'Purchase…' button. You can book our paid service for a single month, three months, six months or an entire year.
GarageSale will never delete any of your active GTC listing images, even if the GTC Image Option has expired. The GTC Image Option is not a subscription service that automatically renews. You only pay once for the selected time period and can purchase additional GTC Image Options whenever you need them.
eBay's Picture Service (EPS): Select EPS if you wish for eBay to be hosting your listing images. Note that eBay may charge you an additional fee for EPS. You also have the option to 'Enable picture pack automatically, if free' if you check the corresponding box.
Advanced
The Advanced section gives you additional control for your images and lets you specify how often GarageSale will update your eBay messages.
Under 'Miscelleanous' you can tell GarageSale to 'Remove categories when duplicating listings' and to 'Prevent system from sleep while scheduling listings'. This is a great idea when scheduling listings to start at times when your Mac is typically not in use!