Starting Listings
Once you are ready to start your listing on eBay, choose the 'Start Listing' command from the Main Window's toolbar or the 'Listing' menu. If you have authorized more than a single eBay account in GarageSale, an additional menu will appear, asking you to select the desired account.
You can select multiple listings and start them simultaneously by holding down the shift key while clicking on additional listings.
Once GarageSale's Launch Control window has appeared, your listings will be verified using the selected eBay account. If GarageSale or eBay cannot find any errors, the estimated listing fees (as calculated by eBay) will show at the top of the 'Launch Control' window.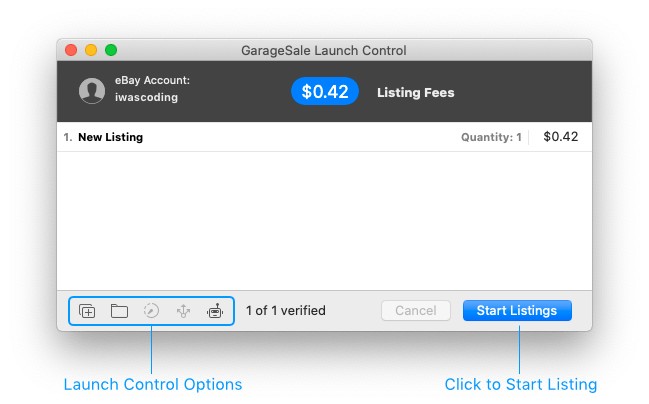 Click the 'Start Listings' button to upload your listings to eBay.
Watch the tutorial video: Starting a listing
Please keep in mind that a listing can be only started once. If you wish to start the same listing several times in rapid succession, please use the "Copy original listing after launch" option from the options popover.
Dealing with Errors and Warnings
When starting or verifying a listing, errors or warnings may be returned from different sources. Here is how to deal with them:
GarageSale can recognize many problems instantly without needing to communicate with eBay. You need to fix this problem in order to start your listing.
Errors can occur when GarageSale tries to upload your listing images to the image server specified in the preferences.

If you are uploading your images to eBay's or iwascoding's servers, errors most likely indicate a network issue or a temporary issue on the image servers. Please try uploading again after a few minutes. If the errors persist, please check your internet connection and make sure GarageSale isn't blocked from uploading by a firewall software running on your Mac or your local network.
If you receive errors while using your own server, please make sure your configuration parameters are correct. If you are not sure, please contact your server's admin or ISP's support.

You may receive warnings from eBay, carrying a yellow warning sign. Warnings will not prevent your from starting your listing. Nevertheless, they are indicating a potential issue with your listing. Please make sure you understand what the warning is about before continuing to list. You can permanently hide warnings by right clicking them and choosing 'Hide future warnings like this'.
If you are receiving errors from eBay, you will need to fix these errors before you can proceed to list the item. If you believe that GarageSale should have caught the error on its own, please let us know.
Launch Control Options
You can fine-tune how GarageSale handles your listing once it has been started in the Launch Options popover window: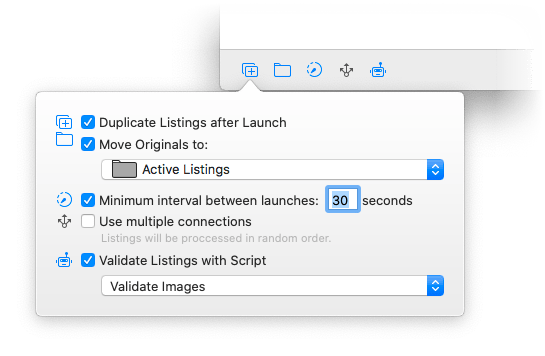 This window offer two options:
Duplicate Listings after Launch: If enabled, this feature will create a duplicate listing of the one that you just started, place it right below the original listing and highlight it. This way you can easily start identical listings, without accidentally modifying a listing that has already been started.
Move Originals to: Here you can tell GarageSale to automatically move your started listings to a specific folder. This can be helpful, if you wish to keep your started listings out of the draft folder.
If any of these two options are enabled, their corresponding status icons will appear highlighted at the bottom of the Launch Control window.