Designing Listings
GarageSale presents you a large variety of customizable listing designs to choose from. These beautiful designs are optimized for mobile viewing and will make your listing vastly more attractive. While you can use all of our stock designs free of charge, you can purchase many more fascinating designs via GarageSale's Design Store.
Watch the tutorial video: Designing a listing
Design Basics
Open the Design popover window to select a design and a layout option. If you prefer to use none of the integrated designs, simply check "Don't use a design" at the bottom.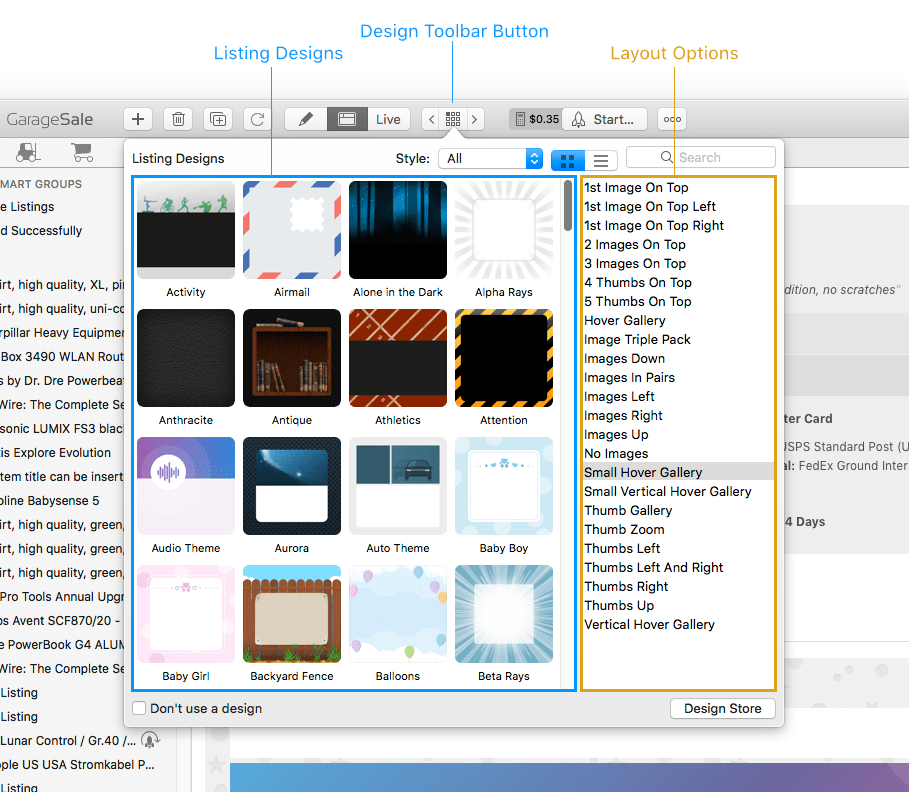 Layout Options
Every design features distinct "layout" options, giving you the ability to arrange the listing images and item description according to your personal preference. GarageSale offers classic image layouts (images on the right, left, top…) as well as advanced layout options, such as image galleries and zoom effects.
For samples please see below: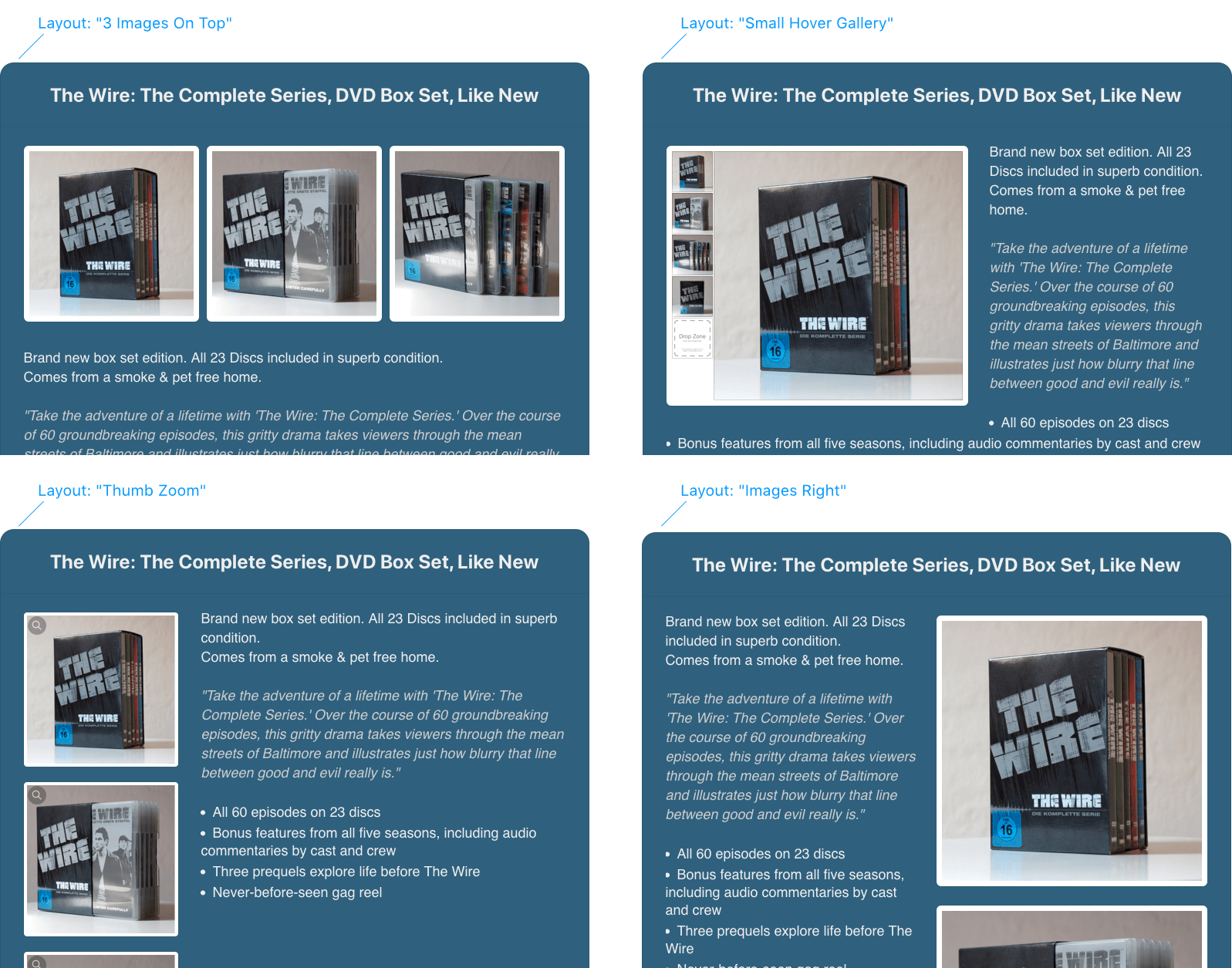 Design Properties
The "Properties" tab in the inspector gives you detailed control over many design aspects, such as its color, size, font style and other elements.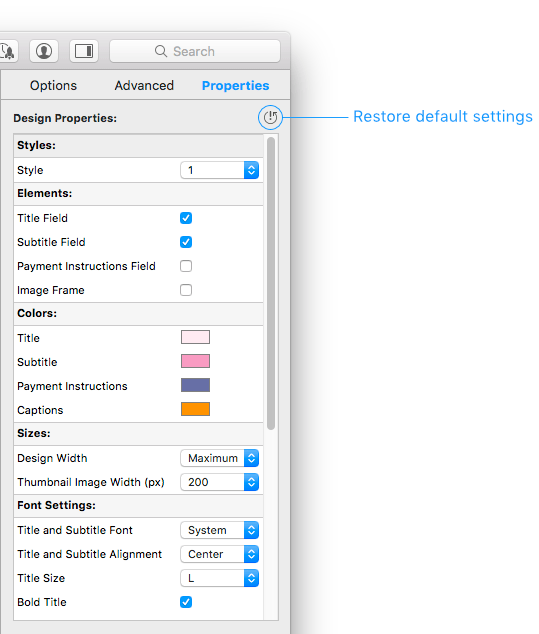 GarageSale's so-called "Pro Designs" provide even greater customizability!
Pro Designs
GarageSale's Pro Designs are advanced listing designs, specially designed for eBay store usage. Pro Designs will reflect your store name as well as your store categories and furthermore enable you to add individual text boxes, so-called "info boxes" (e.g. for shipping details, payment info, return policy).
Many of the Pro Designs even let you insert your own logo (URL) or header image (URL), enter a store slogan or promote your eBay store. Creating your own customized, highly professional listing design has never been easier! But Pro Designs are not just for eBay store owners: Even without an eBay store you can use them.
Five Pro Designs are already included in GarageSale and many more are available via the built-in Design Store.
Selecting a Pro Design
Like the regular listings designs the Pro Designs are located in GarageSale Design popover window. They start with a "Pro:" in their name.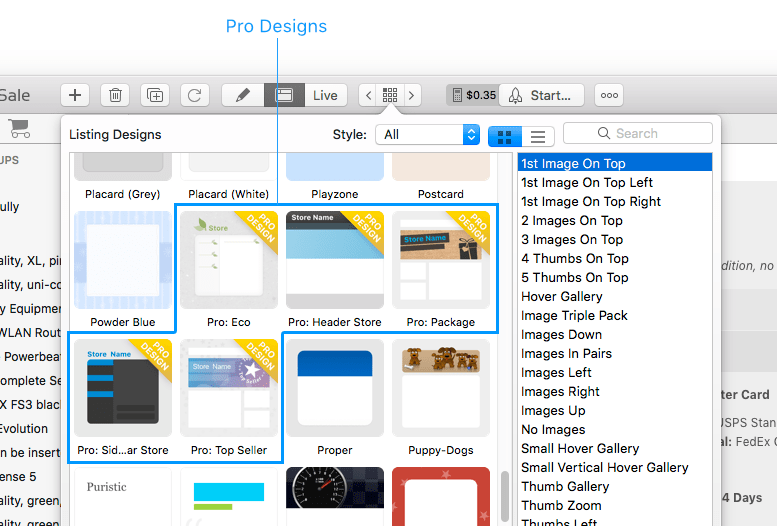 Pro Design Options
The Pro Design options are located in the Design Properties Inspector. There you can toggle and adjust the store name, store categories, info boxes and more. Please note that your store name and store categories can only be inserted in your listing if you already have one of your store categories selected in the "Options" Inspector.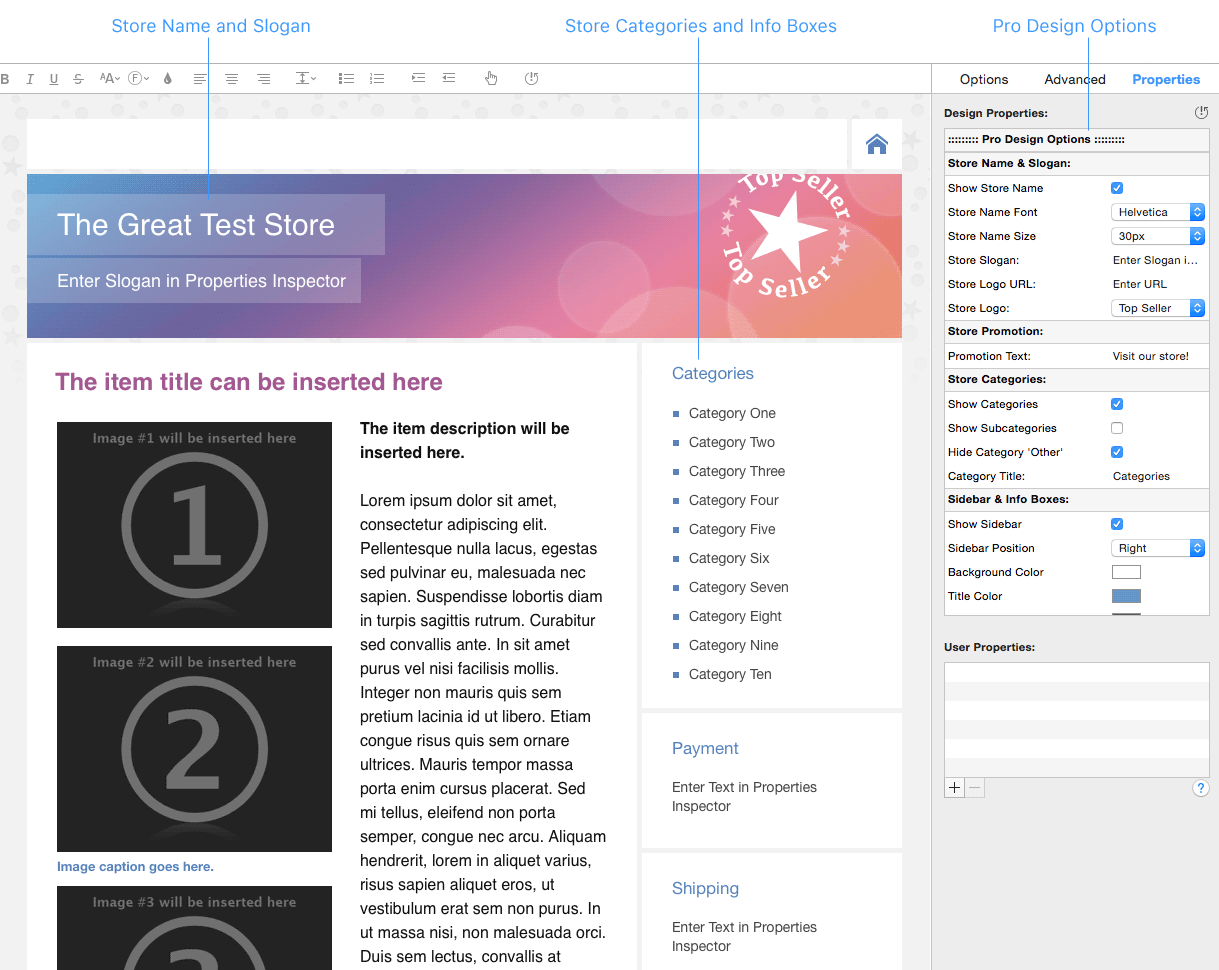 You can even use html to format the text inside the info boxes. The same holds true for image captions.
Image Captions
Once you have settled on a listing design, you can then provide captions for your listing images. These captions can be edited both in GarageSale's Editor or Preview mode.
Editing Image Captions
In Editor Mode: Select an image and click the Edit caption button below.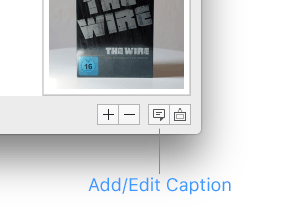 In Preview Mode: Position the cursor over the desired image and you should see a caption icon appear in the top left corner of the image.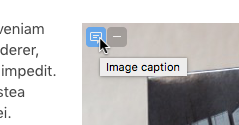 Alternatively you can also right-click the image and select "Edit Captions" from the context menu. This works in Preview mode just as well as in Editor mode.
Formatting Image Captions With HTML
You can even format the image captions using basic HTML tags. See below for examples:
Adding line breaks: <br>
Bold text: <b> your text </b>
Colored text: <span style="color: red"> your text </span>