Editing Images
After you have added images to your listing from GarageSale's Photo Media Library, from the Finder or through the "+" button in Editor mode, you can further edit and re-arrange the images.
Watch the tutorial video: Editing images
Many of these features can be directly accessed via the context menu (right-click on an image):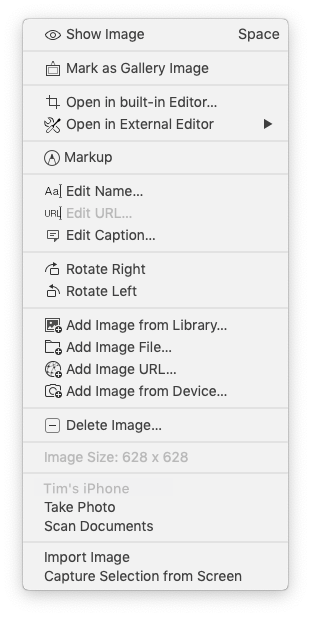 Re-arranging Images
The easiest way to re-arrange the order of the listing images is to drag and drop them to the desired position in the image field in GarageSale's Editor mode. To be able to drag an image, click on it and keep the mouse button pressed, wait a moment, then you can move the image around. Release the mouse button once the image has reached the desired location.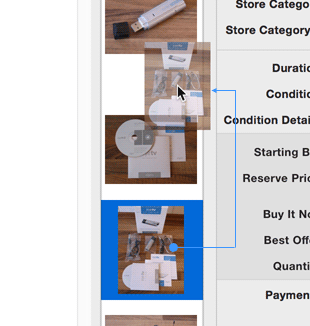 You can re-arrange images in GarageSale's Preview mode, too. Simply drag and drop an image onto another image to swap positions.
If you use a listing design you can also select from many pre-defined "layout" options giving you the ability to arrange the listing images and item description according to your personal preference.
Marking an image as the gallery image
With eBay's "Gallery Image" option you can mark one of your images as the image that should be shown next to your item title in the search results on the eBay website. eBay might charge you an additional fee for this option.
To mark an image as the gallery image you can right-click on it and select "Mark as Gallery Image". Another way is to hit the Gallery Image icon in GarageSale's Editor mode.

Opening in Image Editor
Built-in Image Editor
With GarageSale's built-in image editor you can crop your image and apply different image filters.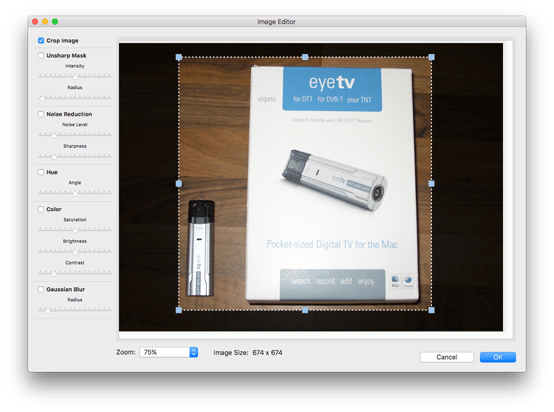 External Image Editor
You can edit images in external editors installed on your system, e.g. in "Preview.app".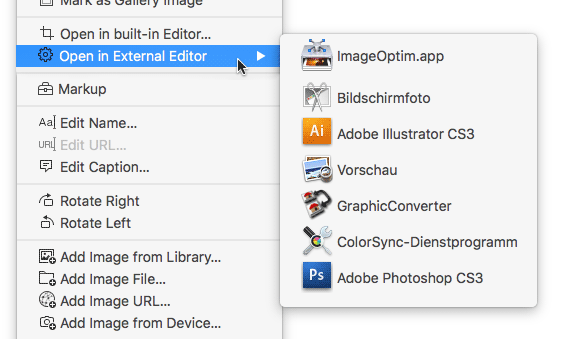 Adding Markup
Easily add free forms, lines, arrows, shapes and text to your image. You can crop images here, too.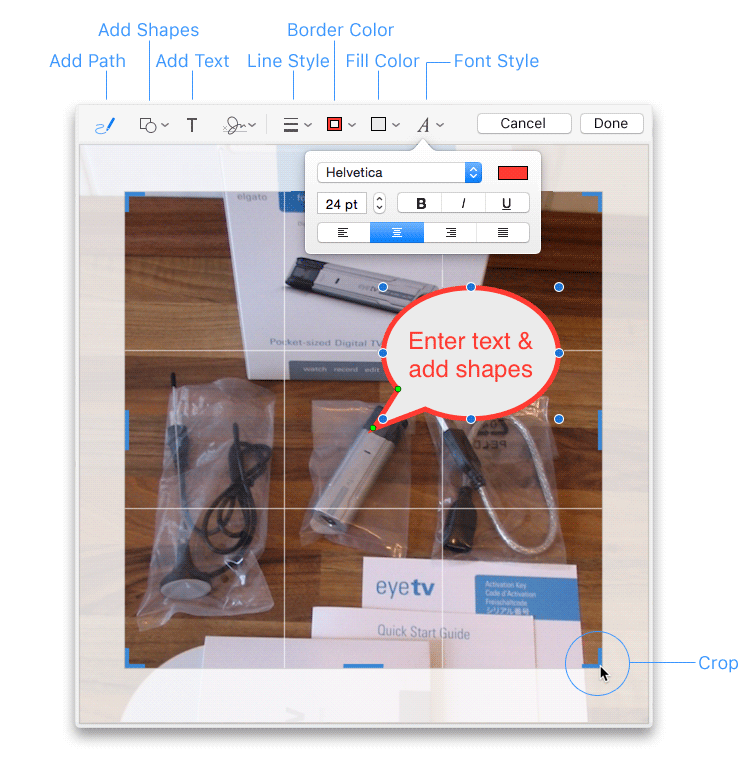 Editing Name, URL and Caption
Edit the image name (for internal use), image URL (only if you use URL images) and image caption .
Rotating Images
You can rotate an image by right-clicking on it and choosing "Rotate Left" or "Rotate Right".
Deleting Images
There are several ways to delete images from your listings:
Right-click on an image and select "Delete Image…".
In Editor Mode: Select one or more images and hit the delete key on your keyboard.
In Editor Mode: Select one or more images and hit the "-" button below the image field.
In Preview Mode: Hover your mouse over an image and click on the appearing "-" button.
To delete all images from the selected listing at once, simply select "Delete All Images…" from the "Listing" menu.