eBay
The eBay tab enables you to set up defaults for your new listings, select your image server and handle advanced settings.
New Listings
Here you can control the default settings for new listings, such as the eBay Site, duration, payment, shipping, design and so on. This way you don't have to re-select your default options for each newly created listing again and again.
If you're missing settings here you'll find the "Copy all settings from" option even more very helpful: Just create one listing in GarageSale that carries all your default settings including text and design. Next, simply drag and drop that "master" listing from the GarageSale listings section straight into the box with the dashed border. Each time you create a new listing GarageSale will automatically copy the settings from the "master" listing.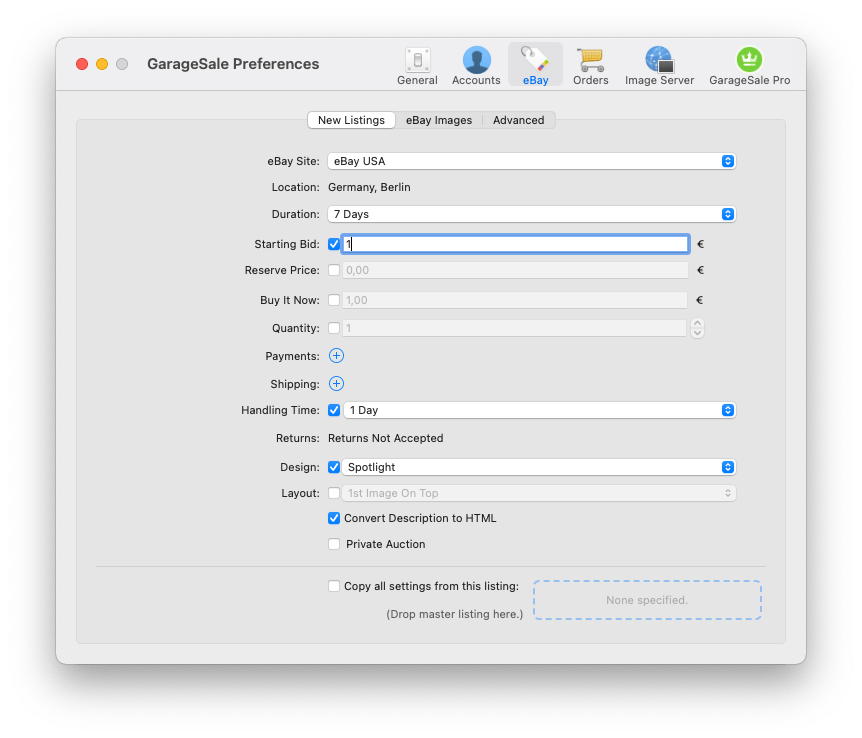 eBay Images
Choose between using GarageSale' free picture service or eBay's picture service (EPS) or purchase our Good Till Cancelled (GTC) image option.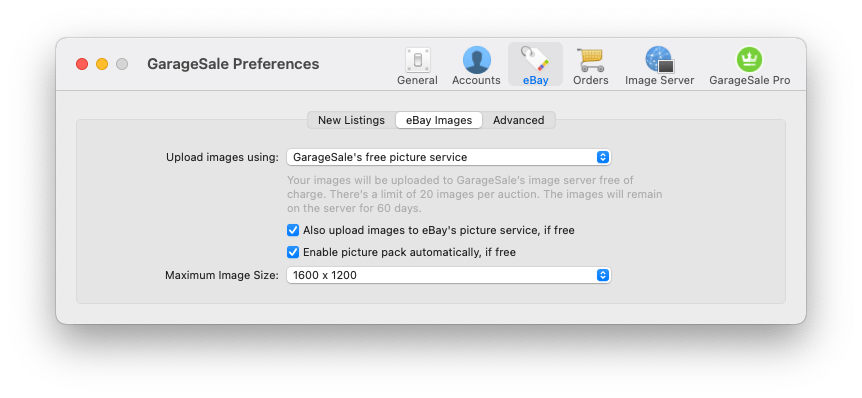 GarageSale's free picture service
Choose this option to upload up to 20 images per listing with a size of up to 1600px. If you subscribe to GarageSale Pro you can add up to 50(!) images to your item description.
The images will remain on the server for up to 60 days.
Selecting 'Also upload images to eBay's Picture service, if free' will make the images appear in eBay's own image gallery (at the top of the eBay listing website), too.
If you wish to use GarageSale's picture service for Good Till Cancelled (GTC) listings, a GarageSale Pro subscription is required.
eBay's Picture Service (EPS)
Select EPS if you wish for eBay to be hosting your listing images. EPS supports up to 12 images per listing. Note that eBay may charge you an additional fee for EPS. You also have the option to 'Enable picture pack automatically, if free' if you check the corresponding box.
Advanced
The Advanced section gives you additional control for your images and lets you specify how often GarageSale will update your eBay messages.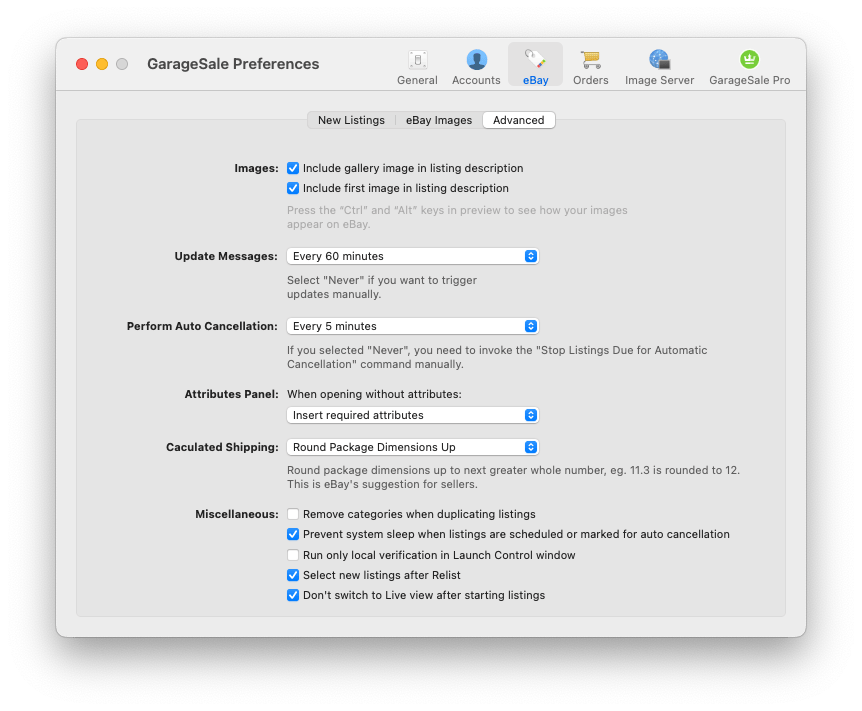 Perform Auto Cancellation: This is only required for the optional Auto-Cancel feature. It lets you define how often GarageSale should perform/check the auto cancellation process. If you selected "Never", you need to invoke the "Stop Listings Due for Automatic Cancellation" command from the "Listing" menu manually.
Under 'Attributes Panel' you can specify the attributes panel's behaviour when no item specifics have been defined yet. GarageSale can insert specifics suggested by eBay, insert only specifcs required by eBay or insert no attributes at all.
Under 'Miscelleanous' you can tell GarageSale to 'Remove categories when duplicating listings' and to 'Prevent system from sleep while scheduling listings'. This is a great idea when scheduling listings to start at times when your Mac is typically not in use!
With the 'only local verification' option selected, GarageSale will not verify your listing with eBay before enabling the "Start Listing" button. In general there's no need to select this option but under certain circumstances it can help to speed up your listing process.
With 'Select new listings after relist' enabled, GarageSale will always select the relisted listing in the left outline view (instead of retaining the current selection).