Enable Synching
Before enabling Synching please make sure you have a system backup, e.g. Time Machine.
To enable synching
open the Preferences window
select the "GarageSale Pro" tab
sign in to your GarageSale Pro account, if you haven't done yet
click the "Enable Syncing" button

Enabling Synching on your first Mac
If this is the first of your Mac's for which synching is enabled, GarageSale will start uploading the contents of your library to the sync server. This progress is called "Initial Data Upload".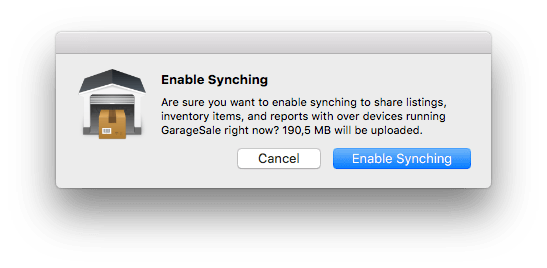 Enabling Synching on another Mac
If you already enabled synching on another Mac using your Pro account, the data on your current Mac will be overwritten with your data from the sync server. That progress is called "Initial Data Download".
Warning: By clicking on "Enable Synching and Replace my Local Data" all your local data (except orders) will be deleted and be replaced with the data from the cloud! If this operation would be erasing already existing listings or inventory items you don't have exported anywhere else, make sure you export these items first, so you can re-import them after the server data has been downloaded.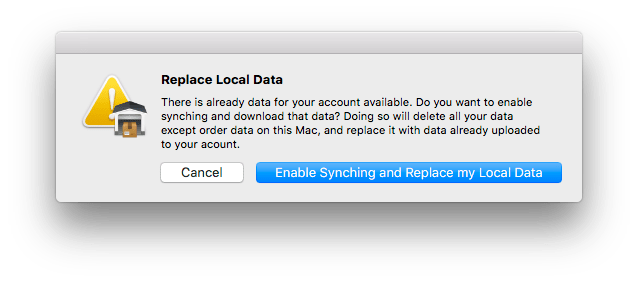 Depending on your database size and internet connection the initial upload and download takes some time (up to several hours). GarageSale will display a progress bar and notify you when ready.