eBay's Business Policies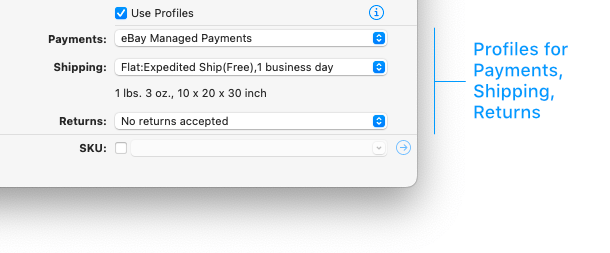 Profiles (aka "policy templates") for payments, shipping, and returns are part of what eBay calls "Business Policies".
The idea is that – instead of defining your settings for payments, shipping, and returns for each listing again and again – you set up profiles that contain your desired settings once. When you create a listing, you then simply choose from your list of predefined profiles. You can have multiple profiles, of course.
Another advantage is that you don't have to redo all your listings if you just want to change your e.g. return settings. If you use a return profile instead, you simply update that profile and you are done.
To learn more about eBay's business policies please see the eBay help here: www.ebay.com/help/policies/business-policy/business-policies
How to create and manage profiles?
To start using business policies, you need to opt in on the eBay website, if not done already.
You can create and manage your profiles from the Business Policies dashboard in the Account section of "My eBay" on the eBay website.
Important: If you have edited or deleted profiles, or created new ones on the eBay website, please download these changes in GarageSale by clicking on Update Account Details in the GarageSale Preferences > Accounts.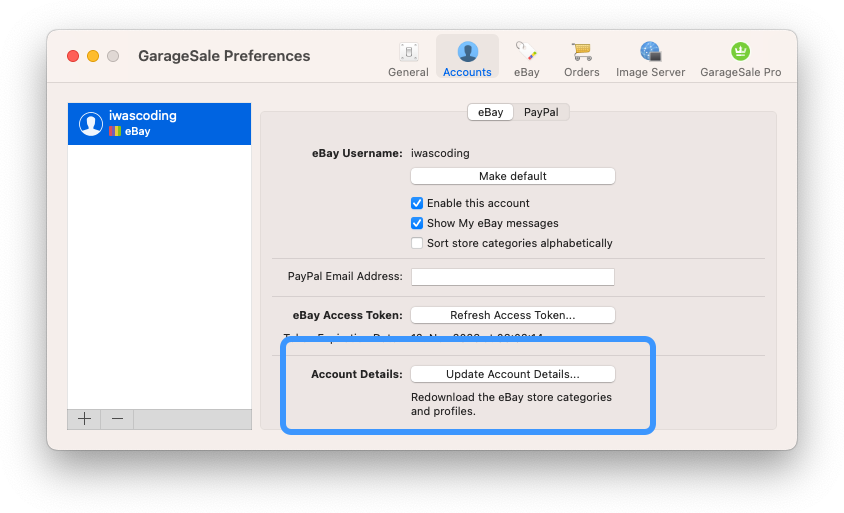 How to select profiles in GarageSale?
If you want to use profiles, just make sure the Use Profiles checkbox is selected. Then select the desired profiles for Payments, Shipping, and Returns.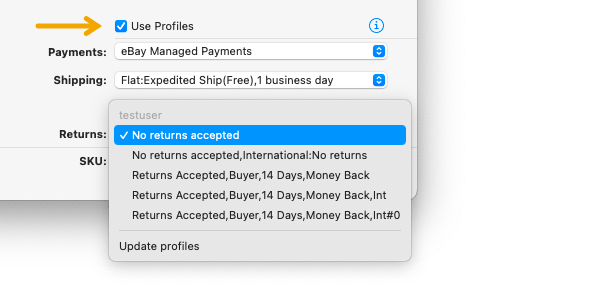 Troubleshooting
If there is a "Mixed State" error on your listing, you have to use the Use Profiles checkbox to decide whether or not to use profiles. Mixed states (a combination of profiles and non-profiles) are not allowed by eBay.
If you get an error saying "you are not opted into Business Policies", you first need to opt in on the eBay website.
If you get an error saying "policy is not specified", make sure you are already opted into business policies (see above). In addition it also might be that the selected profile uses out-dated settings. In this case please edit it on the eBay website directly, or better create a new profile. If done, click on "Update Account Details" in the GarageSale Preferences > Accounts.
Good to Know
You don't have to be a business seller to use profiles. (The term "Business Policies" is a bit misleading in this regards.)
eBay sometimes uses the term "policy templates" instead of "profiles".
Profiles mostly are already automatically created for each user by eBay. Hence the cryptic names. GarageSale does not create or alter any of these profiles.