Orders
For some time now, eBay offers buyers the opportunity to process various purchases from the same seller in one and the same order. These orders are now fully supported in GarageSale.
GarageSale's Orders section keeps tracks of incoming orders and is automatically synced with eBay. It provides you with all the necessary details to process and ship your orders.
Once you select an order you can view its date, buyer address, order status and a list of all purchased items in the content area.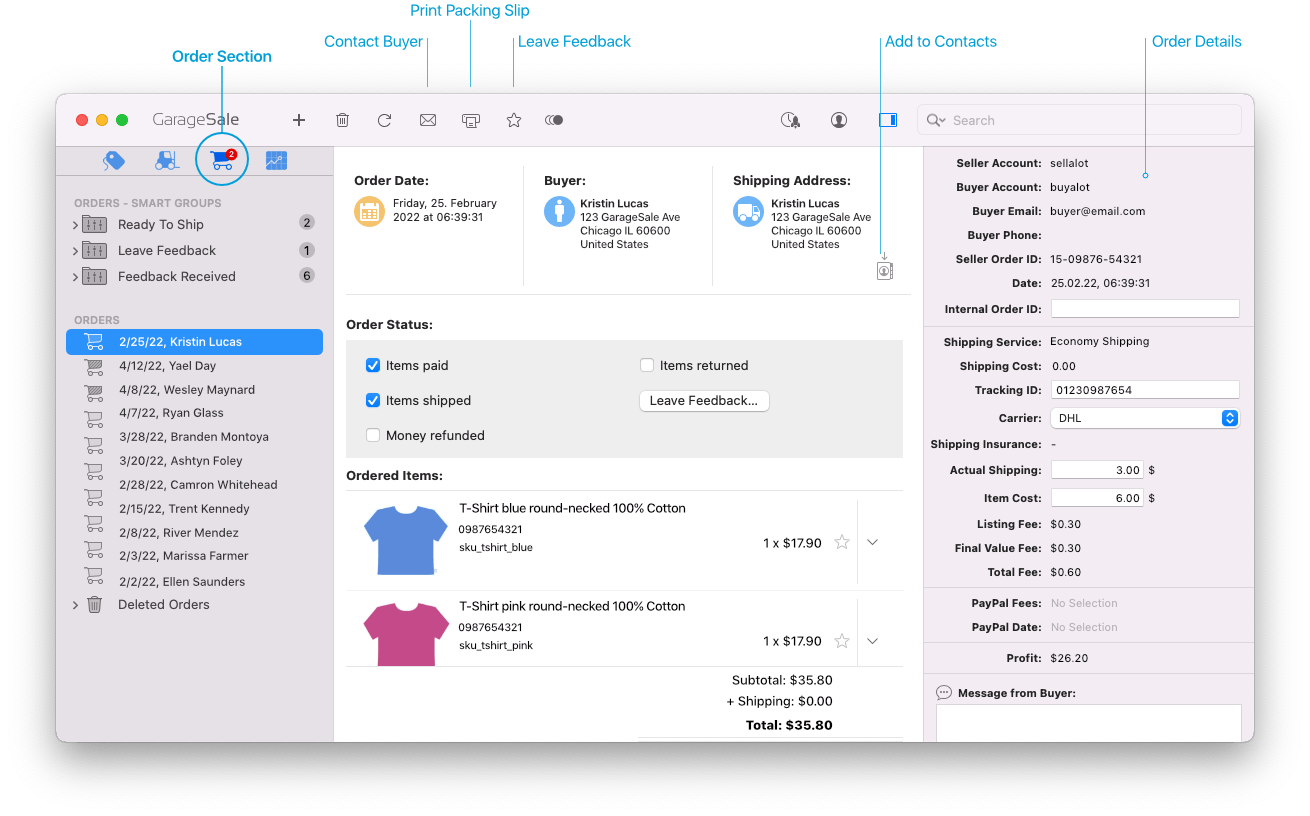 More information such as shipping details, listing fees and eBay messages can be accessed via the Inspector sidebar. These details will automatically download from eBay, if available.
Some details can be provided manually:
Internal Order ID: This optional info allows you to insert your own order ID for internal use only.
Tracking ID: This detail is crucial for buyers to be able to track their purchases, as GarageSale automatically shares this info with eBay. eBay will only accept the tracking ID if you selected a valid 'Shipping Service' (If not, make sure GarageSale's data is up to date by clicking the update icon in the toolbar).
Carrier: Select the desired shipping provider.
Actual Shipping: If the buyer pays more for shipping than you are actually being charged, you can provide the actual shipping cost in the 'Actual Shipping' field. As GarageSale generates reports, the price difference will be added to your profits.
Item Cost: This field contains the cost for the item sold. Its content is copied from the 'Item Cost' field in the corresponding listing.
Private Comment: Ideal for internal memos, which are for your eyes only.
In the GarageSale Preferences you can select how orders should be shown in the left outline view (Buyer Name, Buyer Account, Listing Title). There you can also determine how frequently GarageSale should check for order updates.